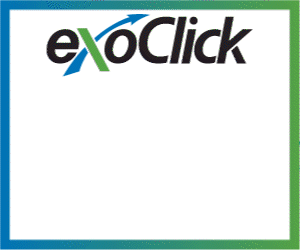 In this series we are going to do ExoClick Review, we will examine different situation and diffrent units of the ExoClick. We are going to examine diffrent situation of ExoClick as like, "what is CPC of ExoClick?", "what is CPM of ExoClick?", "Does ExoClick is legit?" And the requirements to join ExoClick publisher Network.
In Ads network review series we have done review of Popcash, Cpalead, spoutable, yllix, speedyads, popcash, Adbuff, Vibrant Media and so on.
Introduction Of ExoClick:
The Ad network ExoClick is a Barcelona Based Advertiser network ads Company Headed By Benjamin Fonzé as CEO. Benjamin Fonzé Launched 1st Exoclick ads network as a self serve ads network in 2006. Till Today Exoclick Grew to 4th Largest Ads Network in the World.
Exoclick Review: The Cpc and Cpm
We Have managed some short term ads of Exoclick on our website. We find Exoclick is for High traffic websites. We have serves approx 100 ads and we get .002$ as the Revenue, which is too Low.
During the Exoclick review, we have talk too much publishers for the CPC and CPM. we find CPC and CPM of Exoclick approx .00001$ cpc while CPM of the the Exoclick is Approx .01 (Per thousand mile).
Exoclick uses to focus all tier. Tier 1 traffic, which mean traffic from countries like USA, CANADA, EUROPE. The CPM from tier 1 traffic is approximately .002-.0025$, while The CPC of tier 1 traffic approx .00004$ -.00002$.
If we talk about Exoclick CPM for tier 2 is approx .0006$ while CPC is approx .0002$.
If we talk about Exoclick CPM for tier 3 is approx .0009$ while CPC is approx .00006$.
Exoclick review: Requirements
Exoclick doesn't have any requirements, any traffic websites can be a part of Exoclick Publisher network.
Exoclick review: Legit or Scam
During our Exoclick review, we find Vibrant Media is legit and publisher get paid, that publishers have earned from the after showing the ads from the Vibrant Media. As stated Above Exoclick is a fourth largest ad network in the world, a network cannot be a fourth largest ad network 1 publisher has not on the trust on exoclick.
Exoclick review: Payment Proof
Since it our initial period of installation of Exoclick, we found Exoclick is paying according to what we had earned. Right now we did not get to the minimum payment eligibility to get paid. After getting paid from Exoclick we will post screenshot here.
Exoclick review: Payment Method
Every week or month, publishers can expect quick payments by Paypal, Paxum, Payoneer, WebMoney or by the transfer of wire. Please note that only monthly wire transfers are available. The fees and rules for payment are as follows:
Exoclick review: Minimum Payout
Wire transfer – minimum payout $500, bank fees apply
Paxum – minimum payout $20, fees may apply
PayPal – minimum payout $20, free
Webmoney – minimum payout $200, fees may apply
Payoneer – minimum payout $20, fees may apply
Cryptocurrency – minimum earnings $500
Ad Format Supported by Exoclick:
For Desktop:
Billboard banner
In-video banner
Native advertising
Display Banners (300×250, 468×60, 728×90, 250×250, 120×600, 160×600, 315×300)
Sticky banners
Pop-unders
Instant message
Video Banners
Pre-roll in-stream video
In-video ads
Direct links
For Mobile:
Interstitial
Display Banners
Instant message
Pop-unders
Mobile redirects
Conclusion On Exoclick Review:
We have find that Exoclick is legit and have low level of CPC. Publisher should join Vibrant Media as a alternative of AdSense.